Our Pastor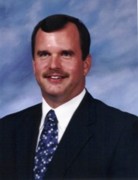 Pastor Jimmy Dean
Greetings In The Name Of The Lord, It has been my pleasure to Pastor First Baptist Church for the past thirteen years. I have had the blessing of leading many to the Lord and baptizing them. God has blessed the ministry in so many ways.
He has provided for us in every aspect of the ministry at Barberville.
We give God all of the Glory!
Pam and I have been married for 28 years and have three grown children. JD (26), Chris (25), and Kimberly (22). We now have four beautiful Grand Daughters. Madyson (8), Mazzie (4), Hayden (1), and Marlie (1). We have lived in Crescent City, FL. since we got married and love it here.
I thank God every day for the opportunity that He has given me to pastor such a wonderful church that is full of loving, caring, and compassionate people.
God showed me through the Holy Spirit that it is the Word of God and the Holy Spirit that perform the work that is needed to see lives changed for the good and to see people of all ages accept Jesus Christ as their personal Lord and Saviour. That is why I will only preach and teach from the Authorized Version or commonly known as the King James Version of the Bible. All of the modern versions are watered down and perverted.